Presbyterianism and Religion in America
From the first preachers of the late seventeenth century through to the present day, the Scotch-Irish contribution to religious life in America has been immense.
The Scotch-Irish and Presbyterianism
Immigrants from Ulster made a critical contribution to the development of the various strands of Presbyterianism in America. The distribution of Presbyterian churches has even been used as an indicator of westward expansion. However, the Scotch-Irish have also been prominent in other religious denominations, including the Methodist and Baptist churches.
The fighting pastor
Many Presbyterian ministers were strong supporters of the Patriots in the War of Independence. Rev. John Haslett took up arms in the revolutionary cause. From the parish of Bovevagh in County Londonderry, Haslett had been minister of Ballykelly before emigrating to America. He served as a Colonel in the 1st Delaware Continental Regiment and was killed in battle in 1776.
Scotch-Irish Presbyterian Reunion
On 4 July 1884 a 'Scotch-Irish Presbyterian Reunion' was held in St Enoch's Presbyterian Church in Belfast with delegates from Presbyterian churches around the world. During the reunion, a cablegram was sent to President Chester A. Arthur, giving him the good wishes of those gathered. In reply Arthur wrote, 'Coming from kindred ancestry the kind greetings of the Scotch-Irish assembled at Belfast today are specially pleasing, and are very cordially reciprocated'.
The 'Vow Church', Philadelphia
In 1767, Margaret Duncan emigrated with her husband Isaac from County Tyrone to Pennsylvania. In 1798, at the age of 75, she made a return visit to Ulster. The voyage back to America was horrendous, and the ship ran out of food and water. Margaret prayed that if the passengers were saved she would build a Presbyterian meeting house. Her prayers were answered and the ship made it safely to port. She fulfilled her vow in providing for a church in her will. The meeting house on Thirteenth Street, Philadelphia – known as the Vow Church or the Margaret Duncan Church – was built in 1815.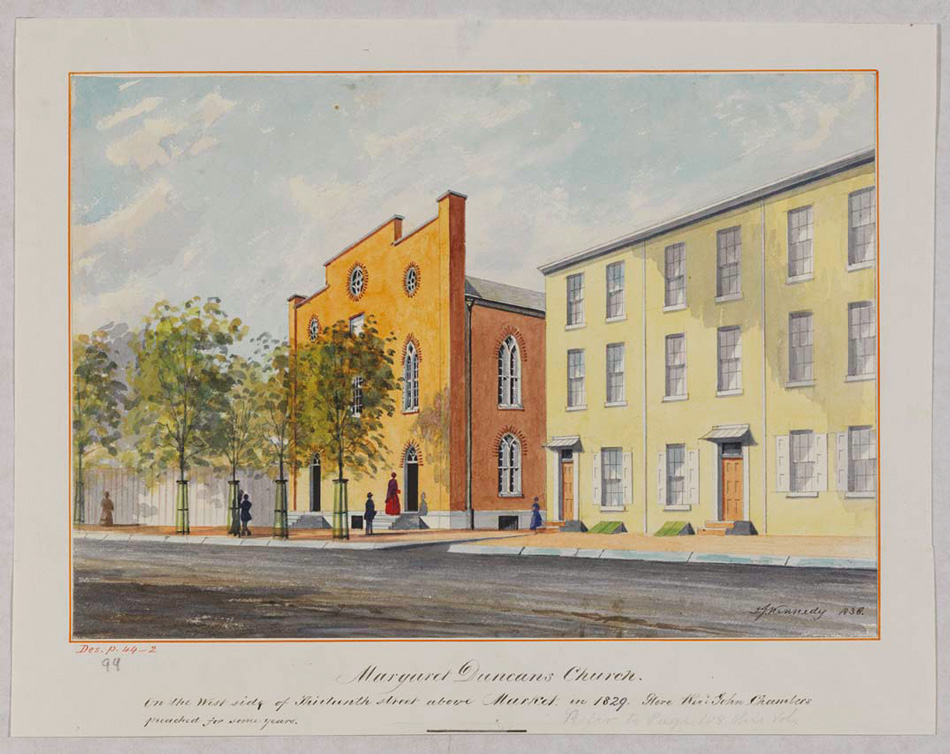 Recent figures
Major religious figures with Scotch-Irish ancestry in more recent times include Billy Graham, arguably the most influential Christian evangelist of the twentieth century. He was born into a farming family in North Carolina that belonged to the Associate Reformed Presbyterian Church. Graham himself became a Southern Baptist minister. R.C. Sproul, the Pittsburgh-born founder of Ligonier Ministries, was the descendant of a Scotch-Irish immigrant from County Donegal.