Canada
Ulster people have a long history in Canada and have played an important role in the national life of their adopted home.
Early Settlers
Canada, like Ulster, experienced Scottish settlement in the early 1600s, although it was much less successful. Sir William Alexander settled Scots in Nova Scotia in the 1620s. His daughter Jean married Sir Hugh Montgomery's eldest son. They built a large home and estate at Comber, Co. Down which they named 'Mount Alexander'.
1900s
The principal ports of arrival for Ulster emigrants were Quebec and St John, New Brunswick. By 1900, there were 1700 Orange lodges operating in Canada and Newfoundland, an indication of strong links with Ulster. After the end of the Great War and the partition of Ireland, large numbers of Ulster-Scots including many from Monaghan, Cavan and Donegal emigrated to Canada. In 1928, veterans of the 36th Ulster Division formed an Old Comrades Association in Toronto.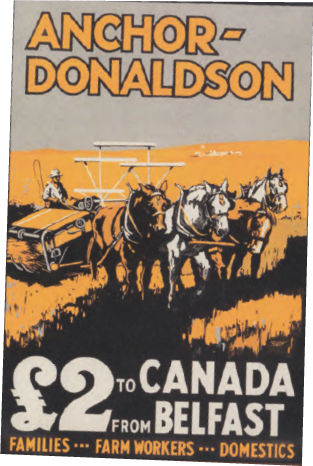 Canadians with Ulster-Scots Roots
Charles Allison, founder of Mount Allison University, was the grandson of an Ulster immigrant – as was the two-time Toronto Mayor Sam McBride. Timothy Eaton, founder of the Eaton department store chain, was born near Ballymena, Co. Antrim. Ballymena was also the home of the ancestors of Bobby Orr, one of ice hockey's all time greats.