Australia
There has never been a mass Ulster exodus to Australia but since the early 1800s a steady stream of Ulster families have made the long journey 'down under'.
Early Settlers
The first white settlers in Australia were convicts – some of whom were transported directly from Ireland in the 1790s. Mainstream emigration followed in the early 1800s and when gold was found in New South Wales in 1851 a steady stream of Ulster-Scots moved to Australia. The cost of travel meant that many of the emigrant families were from the middle classes. The Ulster-Scots in Australia blended into society very quickly and although they contributed greatly at all levels of Australian society they are sometimes referred to as 'the forgotten Irish'.
Ulster Place Names
Ulster place names are common in Australia. Some examples are Bangor and Colebrook in Tasmania, Coleraine and Dromora in Victoria, Hillsborough and Londonderry in New South Wales.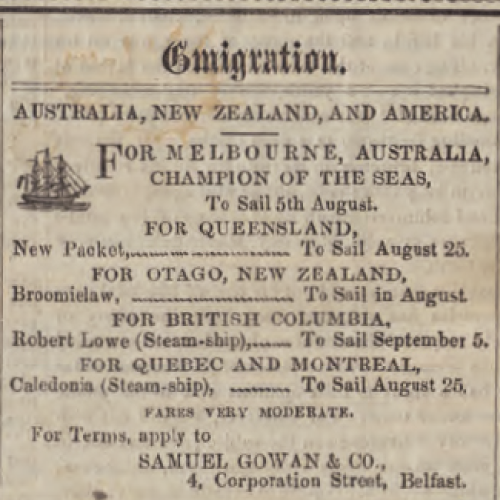 Australians With Ulster-Scots Roots
Samuel McCaughey was born in 1835 near Ballymena, Co. Antrim, and emigrated to Australia in 1856. Within twenty years he had become the owner of Australia's largest sheep farm, over 3 million acres. McCaughey was a generous philanthropist and left much of his fortune to a range of charitable causes.
Andrew Scott was from Rathfriland, Co. Down. An extraordinary series of events led him to Italy, New Zealand, America and eventually Australia where he became one of Australia's most infamous outlaws – 'Captain Moonlight'.
The Hume Highway is over 500 miles long, linking Melbourne and Sydney.
It was named after explorer Hamilton Hume (1797–1893), whose father was from Hillsborough, Co. Down.