Where?
Where did the settlers live?
The English and Scottish settlers tended to live in areas with their fellow countrymen.
Most of the Scots lived on estates owned by Scottish undertakers and similarly most of the English lived on English-owned estates. The areas with the highest numbers of settlers were usually those closest to the ports. People were able to sail directly from England and Scotland to Londonderry and Coleraine.
There was also good farmland around these ports and so many people settled in these areas. Fewer people settled in areas far from ports or where the land was poor and mountainous.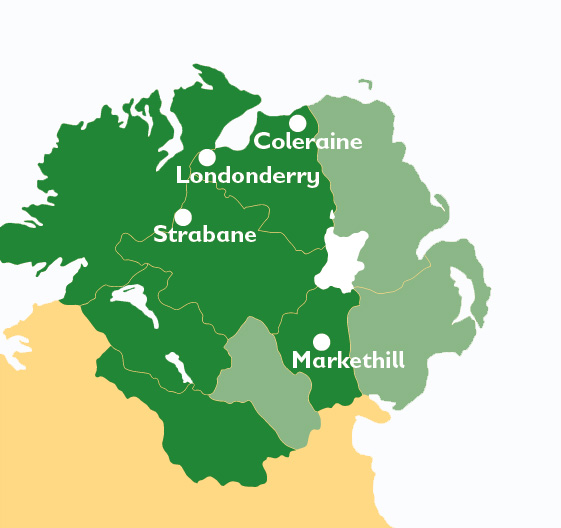 New Towns
One of the big changes brought about by the Plantation was the establishment of towns.
Some of these towns were more successful than others. The largest towns in Plantation Ulster were, in order of size, Londonderry, Coleraine and Strabane. The London companies were in charge of helping the towns of Coleraine and Londonderry to grow.
In County Tyrone James Hamilton, who was the Earl of Abercorn, established a town at Strabane. Many of the landlords were not wealthy enough to establish a town and so founded a village on their lands instead. In County Armagh the Acheson family founded a village that was later to become Markethill.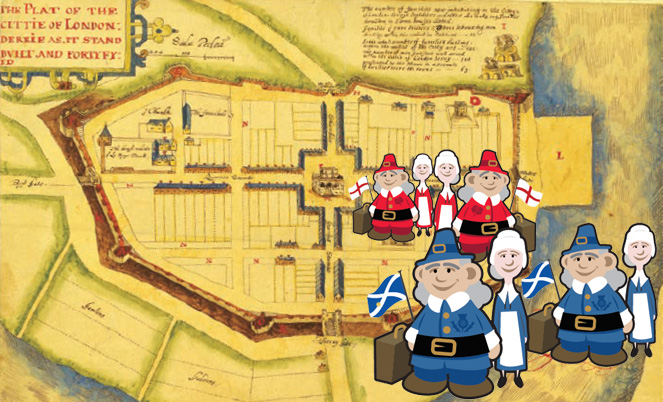 Life in the countryside
The government wanted the settlers to live together in villages on each estate and not scattered here and there. However, in reality most of the settlers did not live like this. This shows that most of the time the settlers felt safe and did not fear an attack from the Irish living near them.
The settlers brought with them new ideas about farming. Better ploughs pulled by stronger breeds of horses meant that much more land could be used for growing crops. Some of the grain grown in Ulster was shipped to Scotland to be sold there.
Beef cattle now began to be kept in large numbers as well as dairy cattle. Farmers now produced extra food to sell at markets and fairs rather than just enough to feed their families. Many of the settlers, especially the English, planted orchards. In some areas fields were enclosed with hedges rather than the countryside lying open.