When?
Background
Ulster was not the only place to be 'planted'. Other parts of Ireland had been 'planted' with English people. A quarter of a century before the Plantation of Ulster, a plantation in the southern Irish province of Munster had been started.
At the same time that the Plantation of Ulster was taking place some English people were sailing across the Atlantic Ocean to establish settlements in Virginia in America. In 1607 Jamestown, named in honour of the King, was founded in Virginia.
King James had also tried to 'plant' the islands of Lewis and Harris in the Outer Hebrides with lowland Scots when he was King of Scotland.
Antrim, Down & Monaghan
Counties Antrim and Down were not included in the Plantation of Ulster. Because these counties are very close to Scotland, Scottish people had been coming to them for centuries. Usually on a clear day it is easy to see Scotland from the coasts of Antrim and Down.
Two Scots, James Hamilton and Hugh Montgomery, received large land grants of many thousands of acres in County Down. So in May 1606 the 'Hamilton and Montgomery Settlement' began, and hundreds of Scottish families began to arrive in east Ulster.
In Antrim, a Scottish family, the MacDonnells, were already firmly in control of the north of the county. The MacDonnells were a Highland family. King James officially 'granted' the MacDonnells large parts of County Antrim. The MacDonnells also began bringing families from Scotland to live on their lands. By the time the Plantation of Ulster began, there were already many Scottish people living in Counties Antrim and Down.
Just as Antrim and Down were not part of the Plantation, neither was County Monaghan. In this county most of the land remained in Irish ownership in the early 17th century. Some Englishmen acquired large estates in the county and a number of English families settled there. However, the number of Scots in County Monaghan at this time was very small – fewer than in any of the other Ulster counties.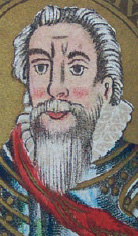 The Flight of The Earls
After being defeated by the English in The Nine Years' War, two of the most powerful Irish chieftains, the Earl of Tyrone and the Earl of Tyrconnell, left Ireland with many of their supporters in an event known as 'The Flight of the Earls'.
They boarded a ship in Rathmullan in County Donegal on 4 September 1607 and hoped to sail to Spain where they would ask for help from the Spanish king to drive the English out of Ireland. However, because of storms the Earls never reached Spain. Instead they landed in France and ended up in Rome. They never returned to Ireland.
The lands of these chieftains were confiscated and King James now had to decide what should be done with these territories. Eventually the King and his officials decided that the solution to their problems in Ulster would be to have a Plantation.