Where to Visit
Belfast | Discover Ulster-Scots Centre
Situated in Belfast's vibrant Cathedral Quarter, the Corn Exchange was once one of the city's leading commercial buildings.
In 1859, it was the venue for one of two major events which took place to mark the Burns Centenary. Today, it is home to the Discover Ulster-Scots Centre, which introduces visitors to the vibrant cultural identity of the Ulster-Scots people, Lowland Scots who have shaped this part of the world for over 400 years.
 
Exhibition galleries explore the early historic links between Ulster and Scotland; as well as the key events since the arrival of the Ulster-Scots, including the coming of Presbyterianism to Ulster, the Williamite Wars and the 1798 Rebellion. There are also a range of displays on the language and culture that Ulster-Scots share with their kin in Scotland, as well as a dedicated gallery telling the story of the Scotch-Irish, Ulster-Scots who travelled to the USA.
Visitors can enjoy a cup of coffee, browse the gift shop or undertake their own web-based research with the help of expert staff who are on hand to assist.
You can even try our new VR experience which features Robert Burns!
 VISITOR EXHIBITION • GIFT SHOP • LITERATURE
Discover Ulster-Scots Centre
1–9 Victoria Street, Cathedral Quarter, Belfast BT1 3GA
T: 028 9043 6710
www.discoverulsterscots.com
Belfast | Linen Hall Library
The Linen Hall Library is located just a stone's throw from Belfast City Hall. Situated right in the heart of the city, it has also been at the heart of cultural life in Ulster since it was established in 1788. The Linen Hall is home to the Gibson Collection, the largest Burns collection in the world outside Scotland, amassed by Ayrshire-born Belfast businessman Andrew Gibson, who was also a Governor of the Library.
 
It also holds a fabulous collection of artefacts donated by Martha Burns Thomas, the poet's great-granddaughter, who grew up in Belfast, which includes volumes from Burns' own library. Since 2016, the Linen Hall has enjoyed museum status due to its Burns collection and its unique collection of early Belfast printed books, which date back to the arrival of printing from Scotland in 1696.
As well as exploring the library's historic collections, visitors can see Belfast's very own Burns statue, which was originally presented by the Poet's Belfast admirers in 1893. You can also enjoy a snack in the atmospheric café overlooking City Hall or pick up a momento of your visit in the gift shop.
VISITOR EXHIBITION • COFFEE SHOP • BURNS STATUE
Linen Hall Library
17 Donegall Square North, Belfast, BT1 5GB
T: 028 9032 1707
www.linenhall.com
Ayr | Robert Burns Birthplace Museum
Robert Burns Birthplace Museum offers a truly unique encounter with Scotland's favourite son. Set among 10 acres of the poet's cherished Alloway countryside, the museum comprises the famous Burns Cottage where the poet was born, historic landmarks, the elegant monument and gardens created in his honour and a modern museum housing the world's most important Burns collection.
With fantastic interpretation and adventures to suit all the family, the museum offers a magical opportunity to see where Burns began – and to understand why his amazing legacy has touched the hearts of people throughout the world. Open seven days a week, year-round and supported by a busy programme of events, Burns' birthplace is truly a place of inspiration for everyone.
A 'Must-See' destination For Centuries
Over the centuries many Ulster travellers have chosen Alloway as a 'must-see' destination. In 1813 Robert Magill of Broughshane near Ballymena, who was a student at Glasgow University, walked from Portpatrick to Glasgow. He had learned many of Burns' poems as a child – 'I called to see his portrait and to drink his memory – the landlady pointed out the place where his father slept and told me several particulars relative to his life'.
There are many other Burns connections in Alloway and Ayr, including Alloway Auld Kirk and G.A. Lawson's bronze statue at Burns Square, a replica of which is in Belfast.
See www.burnsmuseum.org.uk for more details.
Dumfries | Robert Burns House and Centre
The next time you're in south-west Scotland, perhaps driving towards the Scottish Borders or the north of England, why not stop for a break at Dumfries and visit these two excellent Robert Burns visitor attractions? Samuel Thomson, the Ulster-Scots poet from Carngranny near Templepatrick, visited Burns at his house in Dumfries in 1794. You can visit the same building today.
Robert Burns House
Burns Street,Dumfries DG1 2PS
It was in this simple sandstone house in a quiet Dumfries street that Robert Burns, Scotland's national poet, spent the last years of his brilliant life.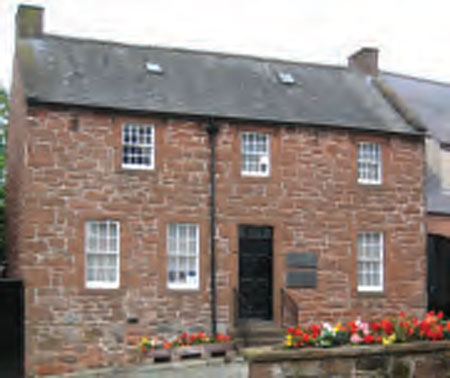 Robert Burns Centre
Mill Road,Dumfries DG2 7BE
Located in the town's eighteenth century watermill on the west bank of the River Nith, the Robert Burns Centre tells the story of Robert Burns' last years spent in the bustling streets and lively atmosphere of Dumfries in the late eighteenth-century.
For more information about Robert Burns House and Robert Burns Centre visit www.dgculture.co.uk
There are many other Burns connections in and around Dumfries, including his mausoleum at St Michael's Church, a white marble statue near Greyfriars Church, Ellisland Farm near Auldgirth and the Brow Well on the B725 near Ruthwell.
To find out more about the collection of manuscripts, books, relics, art and memorabilia that illuminates Scotland's national bard visit www.burnsscotland.com