20th century & the 1959 bicentenary in Belfast
Monuments in Ayrshire and Dundalk
Also in 1921, the Belfast and Greenock shipbuilders Harland & Wolff funded a new red sandstone pillar monument in Failford in Ayrshire to commemorate the spot where Burns met 'Highland' Mary Campbell in 1786. A new Belfast Burns Association was founded in 1931, which paid for the restoration of the Dundalk Burns obelisk in 1935.
1950s: A Continuing Tradition
In the 1950s, prominent people in the Ulster arts scene, such as Sam Henry, Nesca Robb and Sam Hanna Bell all referenced Robert Burns. Their friend John Hewitt recalled that "Once upon a time there was a copy of Burns Poems in every cottage from Comber to Ballymoney, many of them especially printed in Belfast for the local market" (Belfast Telegraph, 10 March 1955). The Irish News published a poem in 1952 which said:
"Nights with Burns are all the fashion"

Said the host, "our Province o'er

Bonnie Scotland is our passion

Ulster Scots we, to the core"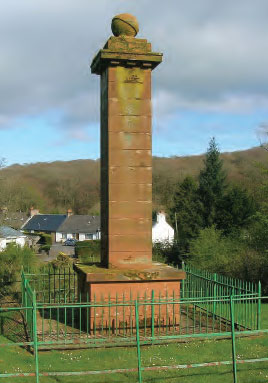 1959 Bicentenary events in Belfast
The 1959 bicentenary was another huge occasion in Scotland. Belfast's events included yet another exhibition at Linen Hall Library. The Belfast Burns Association showed a film called The Land of Burns which had been made by British Transport Films. They had considered borrowing the bronze Burns statue from Belfast Public Library, but found it to be too heavy to easily move.
Former Scottish rugby star John MacDonald Bannerman was guest of honour at the Belfast celebrations, during which he protested that the UK government had not issued a postage stamp to commemorate Burns' bicentenary. However, the USSR government did so instead. Special television broadcasts included a depiction of Burns' life entitled The Other Dear Charmer.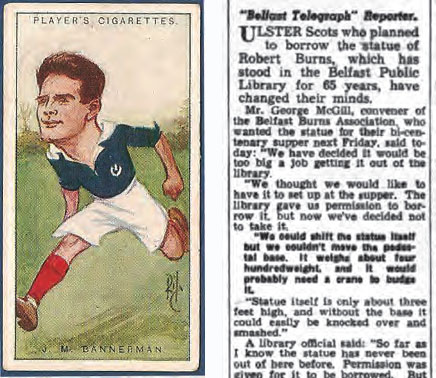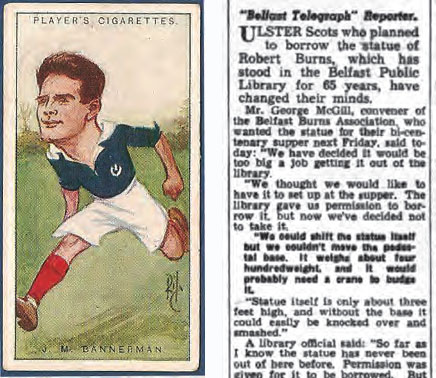 1960s Suppers, Courses and Lectures
During the 1960s, Belfast's most prestigious venues such as the Grand Central Hotel hosted Burns suppers, at which pipers like William Maxwell of Field Marshal Montgomery Pipe Band provided the accompaniment. Our newspapers printed special columns for each Burns night. In 1963 Queen's University ran a special one-day course on Burns, delivered by Prof. John Braidwood and AM Scott from Glasgow University.
Presbyterian ministers were frequent participants in Burns suppers. In July 1968, the Non-Subscribing Presbyterian Church Synod brought Rev. James L Dow from Scotland to deliver a lecture on Robert Burns at Rosemary Street church. Dow was a recognised Burns expert. He had translated Bible passages into the Scots language which were broadcast by the BBC and released as an LP.
1970s
Even in the early years of the Troubles, in 1971 Ulsterbus were running three day breaks to Ayrshire including visits to the Robert Burns cottage at Alloway, for only £12.
In 1978, the Belfast Telegraph printed Larne man John Clifford's Ulster-Scots poem An Ulsterman's Address to a Mouse – a homage to Burns' world famous original. That same year a Belfast butcher sold an astonishing 3,800lbs of haggis in the run up to Burns night, and was featured on the BBC Northern Ireland evening news.
In 1979, the Belfast Music Festival included a Robert Burns Salver prize for Scottish song.