1787: Burns' Poems Pirated and Printed in Belfast
Printing had come to Ulster from Scotland in 1695. Literature in the Scots language had been popular in the city for decades – works by Scottish poets such as Sir David Lindsay, Alexander Montgomerie and Allan Ramsay had been printed in Belfast as well as in Scotland.
Ulster-Scots poetry by William Starrat of Strabane was printed in Edinburgh in the 1720s in one of Allan Ramsay's collections. More of Starrat's Scotch Poems were printed Belfast in 1753, before Burns was even born. "
"Broad Scotch"
When Amyas Griffith from Tipperary came to Belfast in 1780 as Surveyor of Excise he noted that "the common people speak broad Scotch, and the better sort differ vastly from us, both in accent and language."
"Scotch Town"
French aristocrat Le Chevalier de la Tochnaye, when visiting the city in 1797, wrote that "Belfast has almost entirely the look of a Scotch town and the character of the inhabitants has considerable resemblance to that of the people of Glasgow. The way of speaking is much more Scotch than Irish."
Image
1787: The Belfast unauthorised edition
Burns' Edinburgh edition was published in April 1787. Back in Belfast, the city where 'Clabber Loning', 'Point Loning' and famously 'The Pass Loning' (from the Scots word 'loanen' which means 'lane') would all be marked on James Williamson's 1791 map, demand for Burns' poems was increasing.
The popularity caught the attention of Belfast printer James Magee, who placed an advert in the Belfast News Letter on 24 September 1787, announcing that he had printed his own (unauthorised) edition. A copy of this edition is in the Gibson Collection in the Linen Hall Library, Belfast. Many other editions would be printed in Belfast and Ulster towns in the centuries that followed.
The 'Stinking Editions'
The Belfast reprint copied a spelling error from the first Edinburgh edition. In the famous poem Address to a Haggis the Scots word 'skinking' (meaning watery) was mis-spelled as 'stinking'. These were nicknamed 'The Stinking Editions'.
Image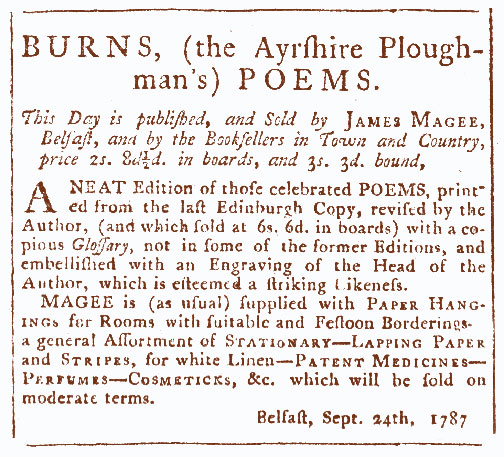 Image