Tourism in Ulster
Larne Emigrants Statue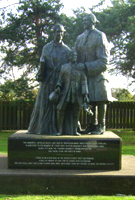 This impressive monument is at Curran Park in Larne, depicting a family about to leave Ulster for America. The inscription on the marble plinth reads:
"This memorial, unveiled on 16th May 1992 by Professor Bobby Moss PhD of South Carolina, is dedicated to the memory of those first Ulster emigrants who sailed from Larne in May 1717 upon the 'Friends Goodwill', bound for Boston. They were to be the first of many. There is no other race in the United States that can produce a roll of honour so long and so shining with distinction. And who shall deny our claim to have done more, much more, than any others to make the United States."
Groomsport and the Eagle Wing Festival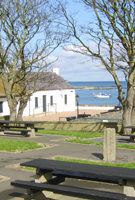 Groomsport Harbour was the location where the first attempted emigration from Ulster to America took place. Rev Robert Blair of Bangor, Rev John McClelland of Newtownards, Rev John Livingstone of Killinchy and Rev James Hamilton of Ballywalter were the four ministers who commissioned the famous ship the Eagle Wing. They had come to Ulster to minister to the Ulster Scots Presbyterians in the Hamilton and Montgomery Settlement area. Eagle Wing sailed from the harbour at Groomsport on the morning of 9th September 1636, the morning after Sir Hugh Montgomery's grand Scottish state funeral in the Priory of Newtownards. Today her journey is remembered each year in the annual Eagle Wing Festival.
Ulster American Folk Park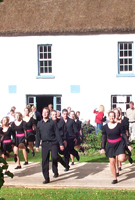 The Ulster American Folk Park was founded in 1976 and is a living history museum, centred around the ancestral home of renowned banker Thomas Mellon. There are 30 buildings within the park, showing what life was like in Ulster and America for the emigrants who left our shores. An interpretive visitor centre, an extensive library and the Centre for Migration Studies are also located on the site. Among its annual events is an Appalachian Bluegrass Music Festival each September.
Presidential Homesteads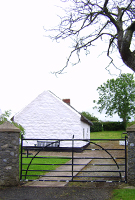 Chester Alan Arthur, 21st President of the USA
Ancestral home near Cullybackey, Co. Antrim
Andrew Jackson, 7th President of the USA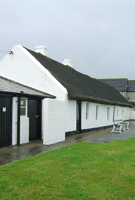 Ancestral home at Boneybefore, Carrickfergus, Co. Antrim
Ulysses Simpson Grant, 18th President of the USA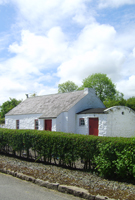 Ancestral home at Ballygawley, Co. Tyrone
Eisenhower Monument, Belfast / Eisenhower Pier, Bangor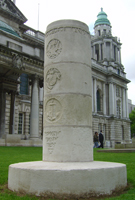 On August 24th 1945, General Dwight D. Eisenhower (later President Eisenhower) unveiled a monument at the front of Belfast City Hall. At the end of his speech, he said "...My Lord Mayor, in inviting me to return here to become an honorary Burgess you have given one further proof of the ties of affection which bind the American Army to the people of Northern Ireland. I trust that you look upon it, as I do, as a token of our common purpose to work together for a better world..." Eisenhower was 34th US President from 1953 – 1961.
He had also addressed the troops at Bangor as they left for what became known as the D Day landings; Bangor's North Peir was renamed Eisenhower Pier in 2005 in his honour, with his granddaughter Mary Jean Eisenhower in attendance at the ceremony.
Virginia, County Cavan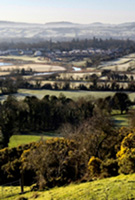 Situated on the shores of beautiful Lough Ramor, Virginia (like her American namesake) was named in honour of Queen Elizabeth I. Lough Ramor has a sandy beach, with rowing and coarse fishing popular pastimes. With an annual street fair and agricultural show, Virginia is reputed to be the birthplace of General Philip Sheridan of the Union Army (who adopted a scorched earth policy through the Shenandoah Valley), and also the place where Jonathan Swift was inspired to write Gullivers Travels. Virginia is around 1hr 30min drive from Armagh, and about a 1 hour drive from either Enniskillen or Dundalk. It is only 15 minutes drive from Bailieborough, one of the key settlements in the Hamilton estates in County Cavan in the early 1600s.