Village Life
A number of settlements in the Laggan can trace their origins back to the period of the Ulster Plantation. Manorcunningham and Newtowncunningham are named after Cunninghams from Ayrshire, while other Scots were active in the development of Carrigans, Raphoe and St Johnston. For the most part, the villages were inhabited by tradesmen and shopkeepers offering a range of different goods and services to the local community.
Markets and fairs
Landlords encouraged the development of these villages, believing that they would promote the local economy. To help stimulate growth, patents for markets were granted. For example, in 1629 patents were issued for markets at Manorcunningham (on a Thursday) and Newtowncunningham (on a Monday). However, these were not always as successful as had been hoped. Fairs had greater longevity and these provided opportunities for people to gather together to buy and sell and to socialise.
The railways
In 1847, a railway line between Derry and Strabane was completed by the Londonderry & Enniskillen Railway Company. For most of this distance, the route hugged the Donegal side of the River Foyle and included stops at Carrigans and St Johnston. In 1883, the Londonderry & Lough Swilly Railway built a line to Letterkenny, with stops including Newtowncunningham and Manorcunningham. Other lines ran along the Finn Valley and beyond, and from Strabane to Letterkenny, via Raphoe and Convoy. All of these railway lines have long since closed, though embankments, platforms and station buildings can still be found at a number of locations.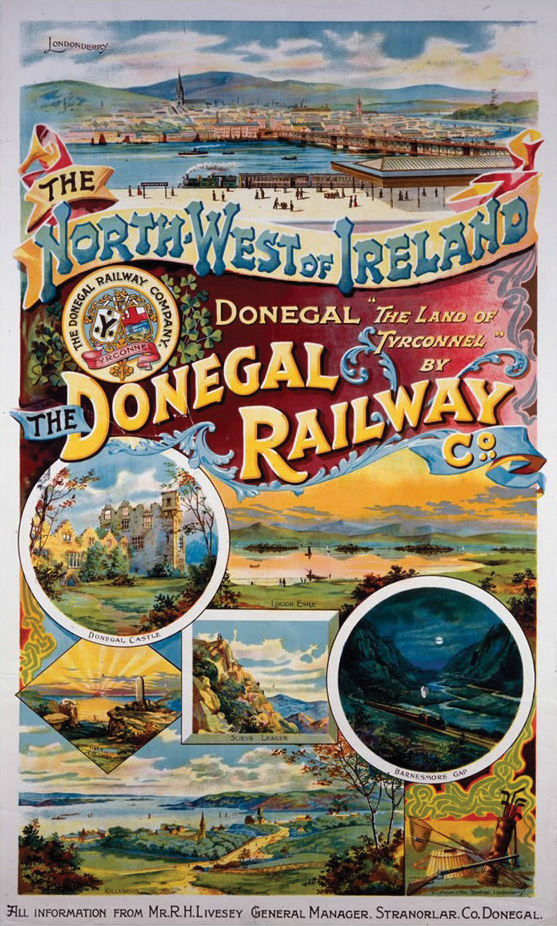 St Johnston through the ages
The village of St Johnston was founded in the early seventeenth century by Scots who had settled in the Laggan as part of the Ulster Plantation. In 1622 St Johnston was described as consisting of '30 thatched houses and cabins inhabited by British'. The 1718 map shows more than a dozen houses along both sides of the main street with a bridge over the stream to the north.
The map of 1781 shows that the village had grown in the intervening period. A quay alongside the stream is marked and the ground plan of the 'old church' is shown; this church had been started in the early 1600s, but was never completed. The 1905 Ordnance Survey map shows a village with a range of amenities as well as a rail link to Derry and Strabane.