Surnames in Ulster
The Scots in Ulster – The First Scottish Migrations to Ulster (1606–1641)
Landowners
Landowners received lands in the Plantation of Ulster. Most were minor lairds, though others, such as Ludovic Stewart, Duke of Lennox and James Hamilton, Earl of Abercorn, were aristocrats and held important positions in the Scottish government. Many of the original grantees sold out early on. Some never even made it as far as Ireland. Others took their responsibilities seriously and built fortifications and introduced the required number of settlers to their estates. Brief outlines of the activities of two undertakers are given below.
Sir George Hamilton of Greenlaw was a younger son of Lord Claud Hamilton of Paisley, near Glasgow. In 1610 he and two of his older brothers, the Earl of Abercorn, and Sir Claud Hamilton of Shawfield, received grants of land in Strabane barony in north-west County Tyrone. Right from the start Sir George proved to be an energetic planter. He differed from most of the settlers who came to Ulster from Scotland in the early 17th century in that he was a Roman Catholic.
Sir Robert McClelland of Bombie was born about 1592 in Kirkcudbright in south-west Scotland. He was still a teenager when he was appointed the chief undertaker in the barony of Boylagh and Banagh in the west of County Donegal. These lands were mainly mountainous and Sir Robert showed little interest in developing them, selling out in 1616. He did not abandon his interest in Ulster, however, for within a couple of years he was leasing two estates in County Londonderry  and had introduced over 200 settlers to these lands.
Many Scottish ministers came to Ulster in the early 17th century and played an important role in religious life in the province. Some were here for only a few years before returning to Scotland, while others spent most of their lives in Ireland. Among the Scottish bishops was George Montgomery, (left) brother of Sir Hugh Montgomery, who was bishop of the dioceses of Clogher, Derry and Raphoe, all at the same time.
The next bishop of Raphoe after Montgomery was Andrew Knox. He was minister in a number of parishes in Scotland before becoming Bishop of the Isles. Knox converted a former monastery in Rathmullan, County Donegal, to his own private house. He died in 1633 and was succeeded by John Leslie who lived to be 100 years old. Leslie built a large castle in Raphoe, the ruins of which can still be seen today. In 1621 James Spottiswood became bishop of Clogher. He rebuilt the cathedral and tried to establish a town at Clogher.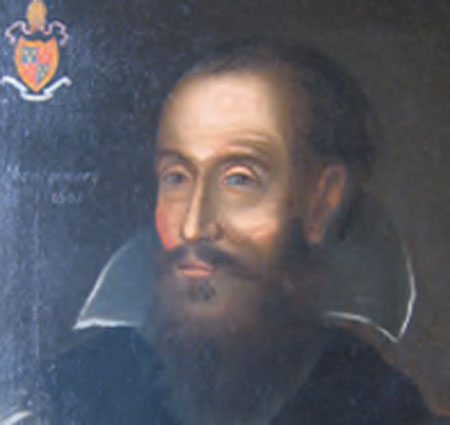 Dozens of Scottish ministers served in Ulster in the early seventeenth century. Archibald Adair was dean of Raphoe. In 1622 he was described as 'an eloquent scholar and good preacher of God's Word'. Men such as Robert Blair of Bangor and John Livingstone (right) of Killinchy were ministers with Presbyterian convictions. For a time they were tolerated within the Church of Ireland, but in the 1630s were forced out by less sympathetic bishops.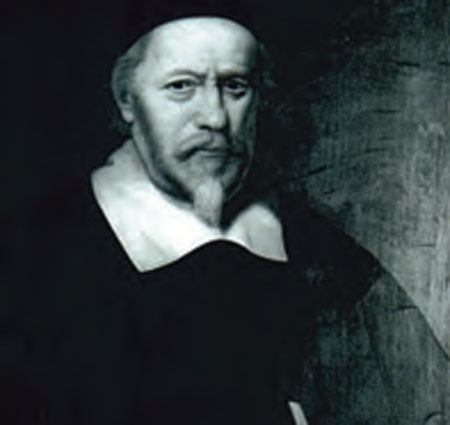 Most of the people who came to Ulster in the early 17th century were not lords and sirs, but ordinary folk who were hoping for a better life through farming or trade. They mainly came from places such as Ayrshire, Dumfries and Galloway, and Lanarkshire. Surnames associated with this area include Crawford, Cunningham, Hamilton and Montgomery. Other settlers came from the Borders area of south-east Scotland including the Armstrongs, Beattys, Elliotts, Grahams and Johnstons. Here are brief biographies of two men who lived quite close to each other near Strabane.
Hugh Hamilton of Lisdivin was from Priestfield in Blantyre near Glasgow. In the early stages of the Plantation, he, together with his brother William, moved to the Strabane area where he worked as a merchant. In 1615, he was granted the townland of Lisdivin by the Earl of Abercorn. His rent was to be either £6 in cash or a cask of French wine, one pound of good pepper, four pounds of loaf sugar and a box of marmalade.
Ultimately of Italian origin, the Algeo family lived in Paisley near Glasgow. Robert Algeo (gravestone left) came to Ulster in the early years of the Plantation and helped Sir George Hamilton of Greenlaw to manage his estates. In 1622 Robert Algeo prepared a report of Sir George's estates for government officials investigating the Plantation. Robert Algeo was a Catholic, making him different from most of the Scots coming to Ulster.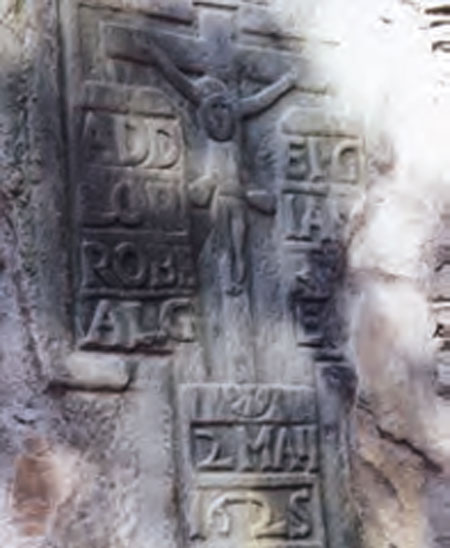 Life
The government wanted the settlers to live together in villages on each estate and not scattered here and there. It was thought that the settlers would be safer if they lived close to each other. However, in reality most of the settlers did not live like this. Most of the farmers preferred to live on their farms rather than in a village. They did not want to have to spend time each day walking several miles from a village to their farms, perhaps having to cross a river or boggy land.
One of the big changes brought about by the Plantation was the establishment of towns. In County Tyrone the Earl of Abercorn established a town at Strabane. Many of the landlords were not wealthy enough to establish a town and so founded a village on their lands instead. In County Armagh the Acheson family founded a village that was later to become Markethill.
Those granted land were required to build a fortification on their lands. The simplest type of fortress was known as a 'bawn' (from the Irish for 'cow fort'). A bawn was a courtyard surrounded by strong walls and was usually square or rectangular. The most important of the new landlords were expected to build a strong castle as well as a bawn. Scottish settlers needed places to gather for public worship. Some times they repaired an existing church and on other occasions they built a completely new church.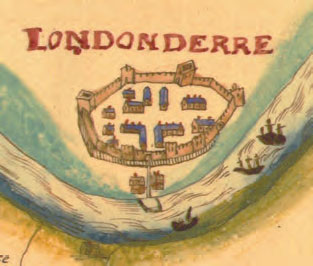 The early Scottish settlements and Plantation
In the early seventeenth century thousands of Scots moved to Ulster. Many of these men came as part of the Plantation of Ulster, an official settlement affecting six counties – Armagh, Cavan, Donegal, Fermanagh, Londonderry and Tyrone. Others moved to Ulster as part of the privately sponsored settlements of Sir Hugh Montgomery and Sir James Hamilton in north-east County Down or to north Antrim under Sir Randal McDonnell (later Earl of Antrim). Though Sir Randal was a Catholic Scot from the Highlands, he encouraged Lowland Protestant Scots to become farmers on his vast 333,000 acre estate.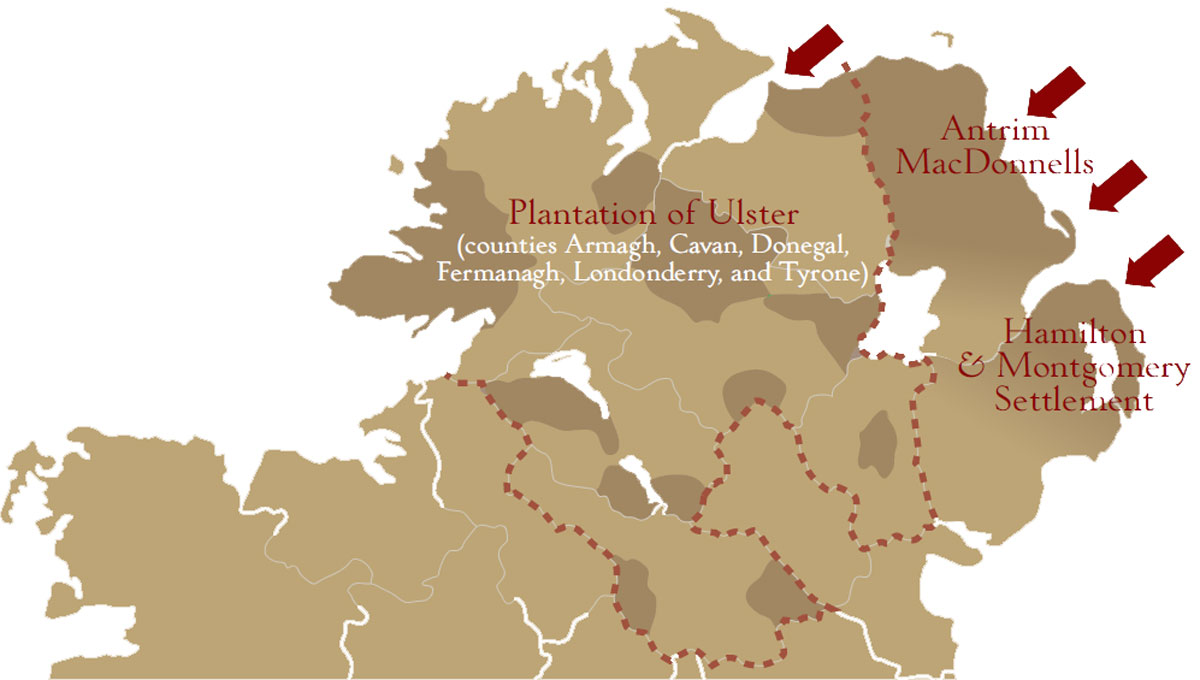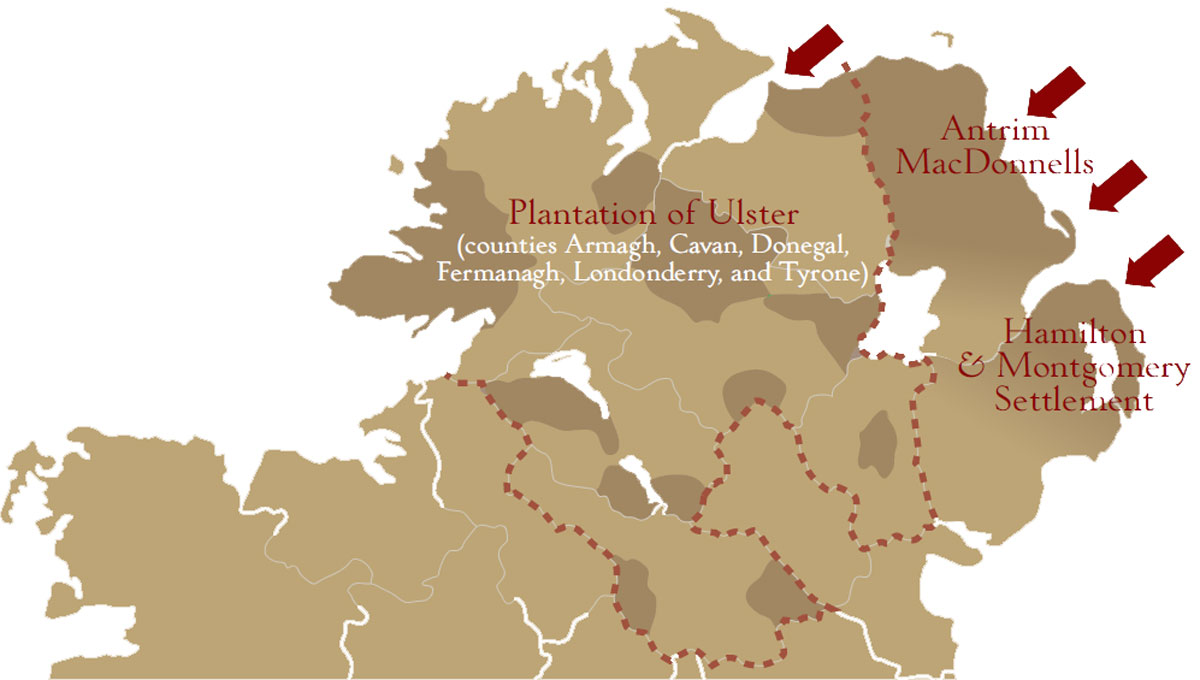 Presbyterian ministers in Ulster around 1660
In the early seventeenth century a number of ministers with Presbyterian convictions moved to Ulster from Scotland and were particularly active in counties Antrim and Down. In 1642 at Carrickfergus the first Irish presbytery was established and in the following decades the Presbyterian Church in Ireland began to emerge as a denomination, distinct from the Church of Ireland. This map shows the location of Presbyterian ministers in Ulster around 1660. In 1661 each of these men was expelled from his church for refusing to accept the episcopalian government of the Church of Ireland.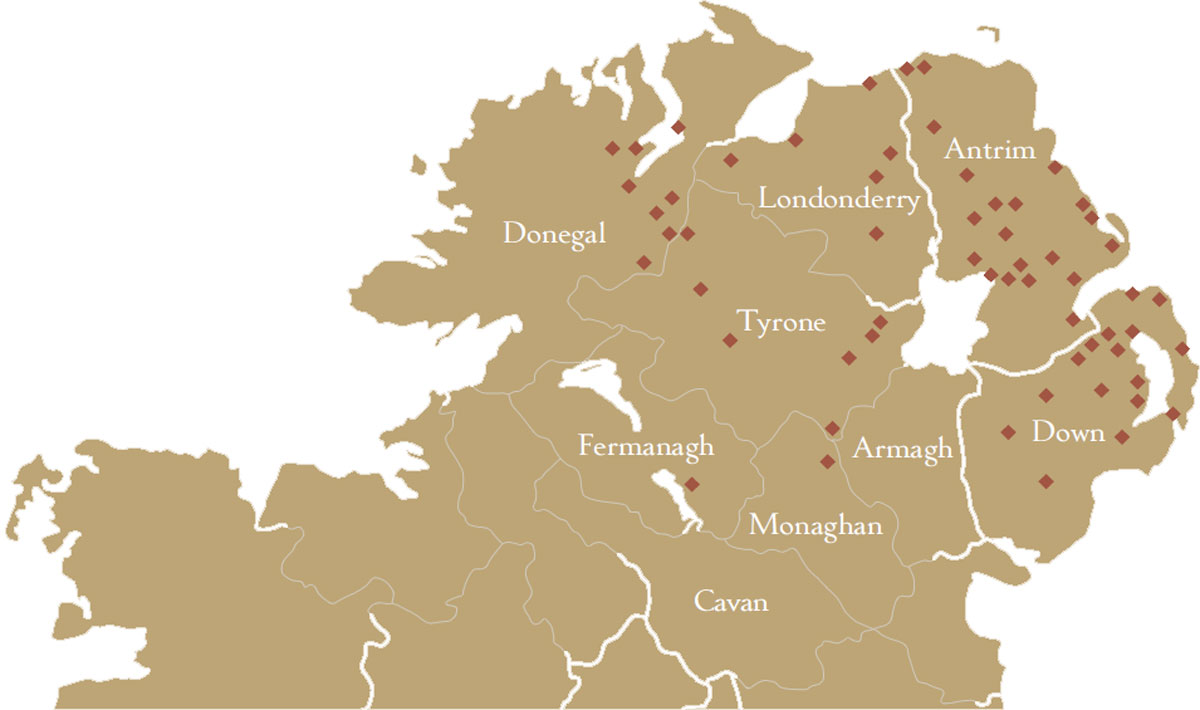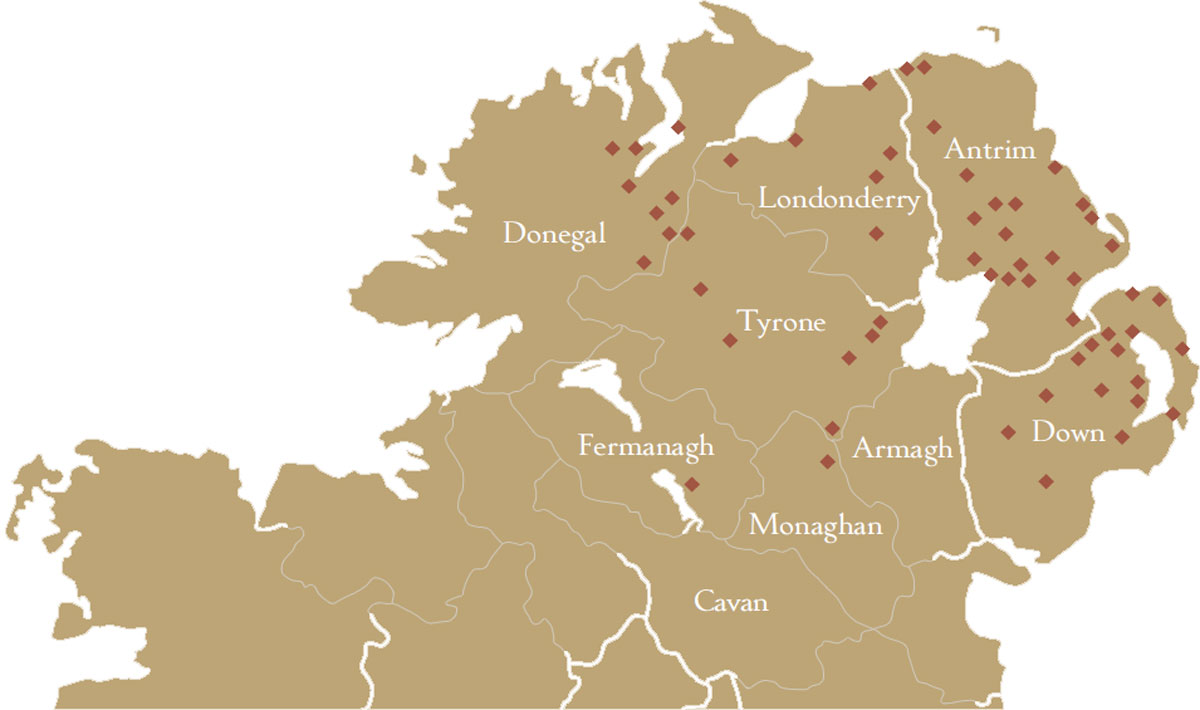 1606–1641: The surviving documents of the time are limited. This map shows where many of the first Scottish settlers in Ards and North Down lived.
Other Scots arrived during this period, and many more arrived in later years, right up to the present day.
Sources used for this map include:
the beautiful Thomas Raven 1625 maps of the Hamilton estates, which are on display at North Down Museum; and
The Scots in Ulster – their Denization and Naturalization (1954).
Additional sources you can consult include:
the Hamilton Manuscripts 1603–1703 and the Montgomery Manuscripts 1603–1706; and
the 1641 rent roll of the Savage estate, published in The Savage Family in Ulster (1888).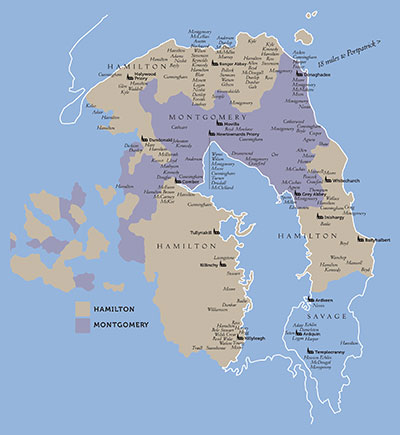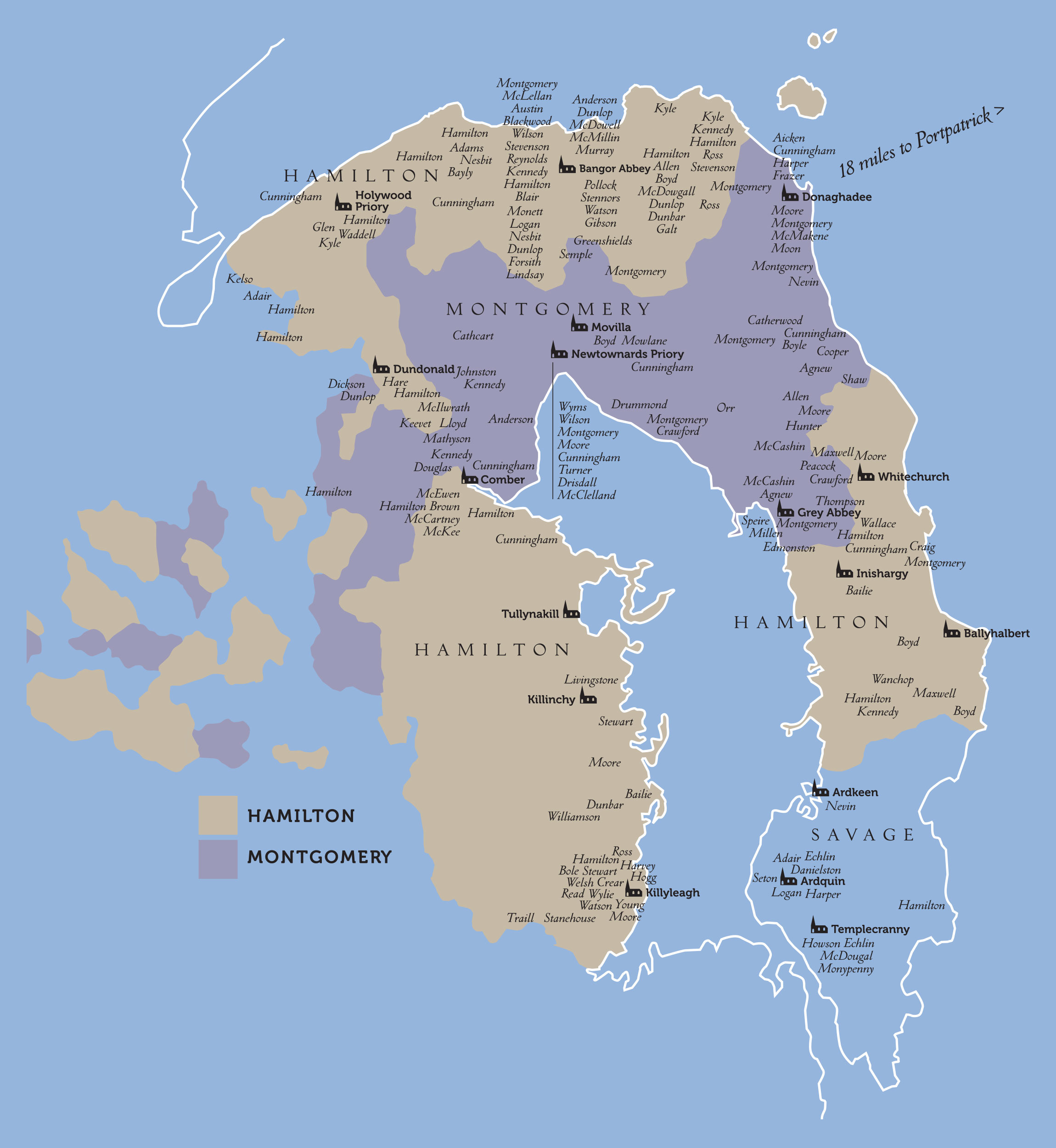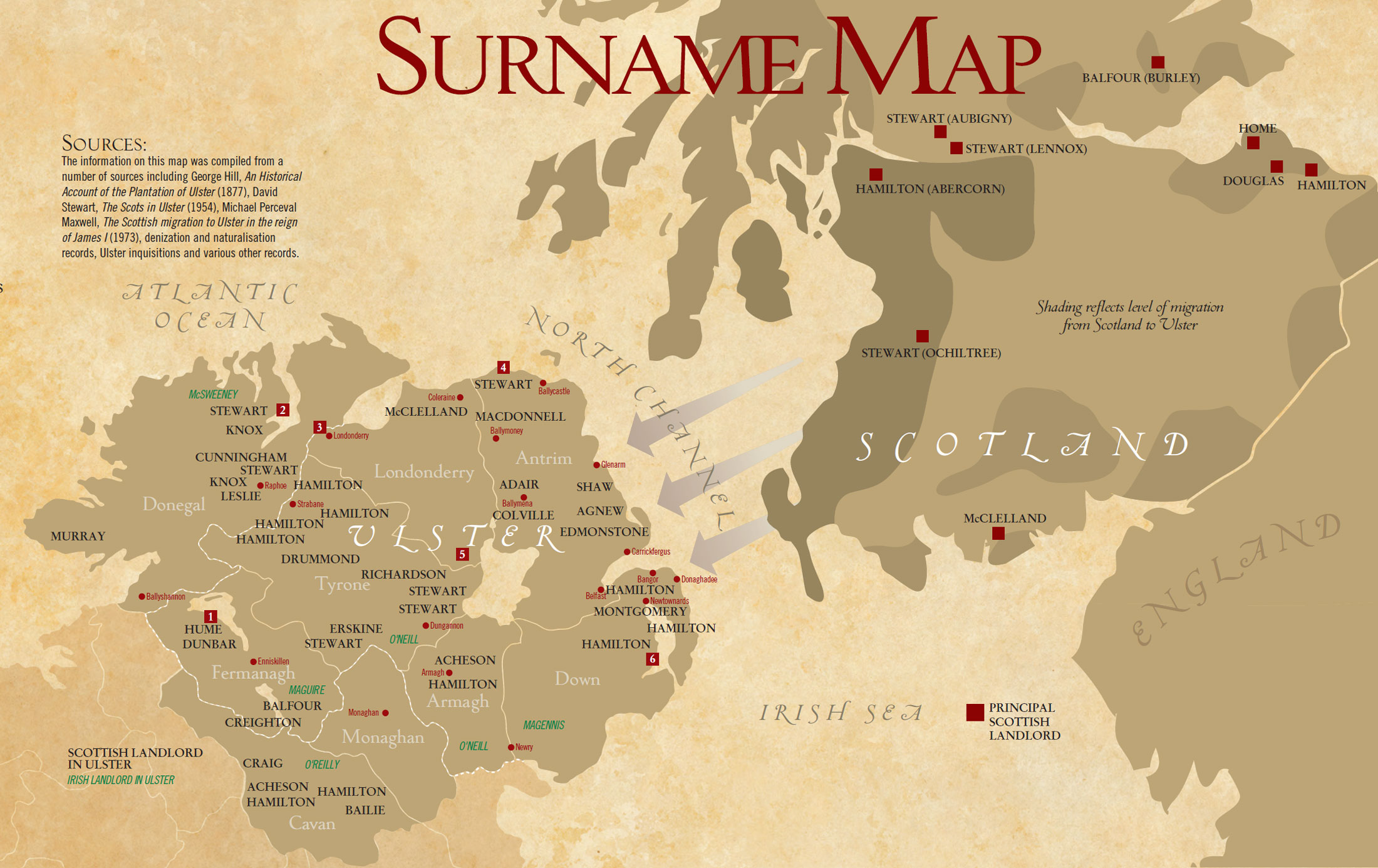 Common Ulster-Scots Surnames
Abercrombie
Acheson
Achmootie
Adair
Adams
Agnew
Aicken
Alexander
Algeo
Allen
Anderson
Andrews
Arkles
Arnett
Austin
Bailie
Barbour
Barkley
Barr
Barry
Bauld
Bell
Black
Blackwood
Blair
Boyd
Boyle
Bozwell
Brackley
Brisbane
Brown
Bruce
Bryce
Buchanan
Burke
Burne
Burns
Buthill
Cahoon
Calte
Calwell
Campbell
Carcott
Carlile
Carmichael
Carothers
Carr
Carslaw
Carson
Cathcart
Catherwood
Cawder
Chambers
Clapham
Clendinning
Cloggie
Coch
Colquhoun
Colville
Cooper
Cowper
Craig
Crawford
Creighton
Creire
Crosby
Cunningham
Cuthbertson
Danielston
Davidson
Davyson
Deans
Deinbone
Demstar
Dewar
Dick
Dickson
Doninge
Dougal
Douglas
Dowling
Drum
Drummond
Dunbar
Dunlop
Dunne
Dunsayer
Dykes
Echlin
Edmonston
Edwards
Ekyn
Elliott
Ellis
Elpinstone
English
Erving
Ewart
Fenton
Ferguson
Ferly
Ferry
Forester
Fingleton
Finlay
Flack
Fleming
Forecheade
Forsith
Frazer
Freeborne
Fullerton
Fulton
Futhie
Fyieff
Gaate
Galbraith
Galt
Gamble
Gemmil
Gibb
Gibson
Gillaspie
Gilmore
Glass
Glen
Glye
Gordon
Graham
Granger
Granton
Gray
Greenshields
Greer
Grindall
Gryme
Grynney
Haldane
Hall
Hamill
Hamilton
Harne
Harper
Harvey
Hatrick
Heigate
Henderson
Hendrie
Hendry
Henrison
Henry
Hepburn
Highgate
Hilton
Hogg
Holmes
Honis
Hood
Hope
Howell
Howie
Howson
Hudgsone
Huggin
Hunter
Hutchine
Johnson
Johnston
Julius
Karns
Keeland
Kelso
Kennedy
Kernes
Kilpatrick
Kinnear
Knox
Kuming
Kyd
Kyle
Laderdeill
Lainge
Lauder
Lawes
Lawson
Laycock
Leckey
Leech
Leitch
Leslie
Lindsay
Livingstone
Lockhard
Lodge
Logan
Logy
Lother
Love
Luke
Lutfoot
Lynn
Lyon
Machell
Machen
Macintyre
Mackeson
Macklelland
Magee
Maghan
Martin
Mathysin
Maxwell
McAlexander
McAula
McAulay
McAuld
McBurney
McCamuel
McCartney
McCashin
McCassick
McCausland
McCawley
McClairne
McCreaghan
McCrery
McCullough
McDonnell
McDougall
McDowell
McErdy
McEvene
McEwen
McFarland
McGee
McGern
McGowan
McIlchany
McIlmurry
McIlveyne
McIlwrath
McKaudy
McKay
McKearne
McKee
McKernan
McKilmun
McKinney
McKittrick
McKym
McLellan
McLintagh
McLoghery
McLornan
McMakene
McMath
McMillin
McNaughton
McNeill
McNilly
McPhedrish
McVegany
Means
Meen
Melvin
Mikell
Millar
Miller
Mitchell
Moffatt
Molsed
Moncrieg
Monett
Moneypenny
Montgomery
Moon
Moore
Moorhead
Morgan
Morne
Morrison
Morrow
Morton
Mowlane
Muntreeth
Murdogh
Murduff
Mure
Murray
Musgrave
Nelson
Nesbit
Nevin
Newburgh
Niven
Norris
Orr
Paddin
Parke
Parker
Paton
Patoun
Patterson
Peacock
Peebles
Peere
Petticrew
Plowright
Pollock
Pont
Pooke
Power
Price
Pringle
Purveyance
Rae
Ralston
Ramsay
Rankin
Read
Redgate
Reid
Richardson
Ritchie
Robb
Robert
Robin
Robinson
Robson
Rodgers
Roger
Rose
Rudd
Russell
Sare
Saunderson
Savage
Sawer
Sayne
Scott
Semple
Seton
Sharpe
Shaw
Shirloe
Simpson
Skingeor
Smelley
Smellham
Smith
Smyth
Somervell
Spence
Spier
Spottiswood
Stanehouse
Stanton
Steele
Stephenson
Stevenson
Stevin
Stewart
Strawbridge
Sturgeon
Sutherland
Symington
Symonson
Syne
Tate
Taylor
Tees
Thomas
Thompson
Thomson
Todd
Trail
Trane
Trench
Trimble
Tullis
Udney
Valentine
Vance
Waddell
Walker
Wallace
Walshe
Walson
Wanchop
Wardlaw
Watson
Weir
Welsh
Wigton
Wilkie
Williamson
Wilson
Witherspoon
Wood
Woolson
Related Documents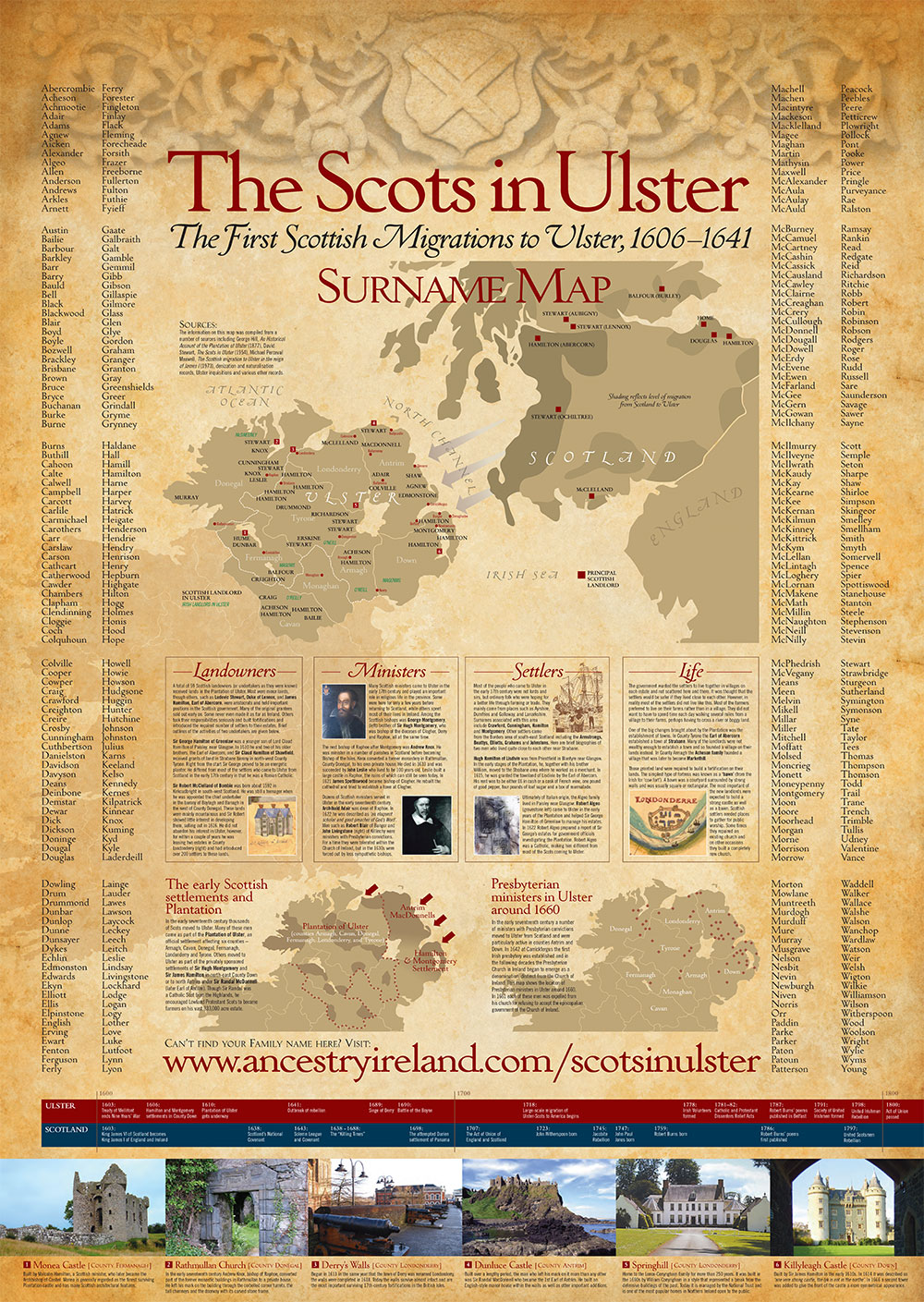 The Scots in Ulster Surnames Map & Pocket Guide
Discover your roots. Learn the history. Visit the places.